December 27th, 2020 (11:41 pm)
current mood: cheerful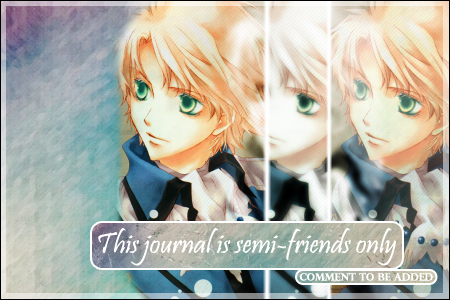 This banner was made by the awesome and marvelous
chalp for my personal use!!!! Thank you, dear, I LOVE IT!!!!!!
==================
I'm a friendly an open minded person and maybe too random for my own good. =) My journal mostly has fandom-related stuff, but sometimes I may write about RL.
EDIT:
I think I probably left some fandoms out because I couldn't remember them at the time, so I'll be editing this entry once in a while. And also I'll be editing it if a new fandom appears in my life <3.
Updated:
June 19, 2009.
ANIME AND MANGA
I love almost all of Clamp's works. =) You could consider me a Clamp fan!!!!!
My favorite works are Magic Knight Rayearth, Wish, Tokyo Babylon, the "on hiatus" Drug and Drop, Card Captor Sakura, Tsubasa Reservoir Chronicles, XXXholic and Suki Dakara Suki.
Favorite anime:
Magic Knight Rayearth, Kyou Kara Maou, Candy Candy, FullMetal Alchemist, Sailor Moon, Code Geass, Toward the Terra, The Vision of Escaflowne, Oofuri, Sekaiichi Hatsukoi, Junjou Romantica, Kuroko no Basket, Free!, Haikyuu!! and Cheer Danshi!
=D And other anime I know (alphabetical order XD):
Beyblade, Card Captor Sakura, Chobits, Claymore, DNAngel, Earl and Fairy, Fruits Basket, Gakuen Heaven, Hellsing (OVAs), Kuroshitsuji, Last Exile, Ouran High School Host Club, Rozen Maiden, Shaman King, Tokyo Babylon, Tsubasa Reservoir Chronicles and Yami no Matsuei
Manga:
My favorite are the ones of Clamp I mentioned above, Skip Beat!, Fruits Basket, FullMetal Alchemist, Claymore, Kuroshitsuji, Nodame Cantabile, Ouran High School Host Club, Oofuri and Kateikyoushi Hitman Reborn.
TV SERIES, TV SHOWS AND CARTOONS
I love tv series that have to do with supernatural stuff and humor =D though I watch a bit of everything if I find the plot interesting .
Favorite series:
The X-Files, Supernatural, Game of Thrones and Gotham.
And about cartoons, I currently love Avatar: The Last Airbender, Korra and Steven Universe.
MOVIES
I like adventure, humor and romantic movies. =) And some horror movies. I'm not at all interested in action movies.
My favorite movies so far: The Lion King (I), The Prince of Egypt, My Best Friend's Wedding, 10 Things I Hate About You, Love Actually, Pirates of the Caribbean: The Curse of the Black Pearl, Deep Impact, Scent of a Woman, The Man in the Iron Mask, Pan's Labyrinth, Howl's Moving Castle, V for Vendetta, Interview with the Vampire, etc.
BOOKS
XD Most know me for liking Harry Potter books. So, yes, I do like them. And my favorite one is "Harry Potter and the Prisoner of Azkaban", because there two of my favorite characters appear: Remus and Sirius!
I love fantasy and I love Tolkien's books.
Also V.C Andrews' books and Anne Rice's books.
MUSIC
I'm not as into music as the average people. I do enjoy listening to music, but I have a very bizarre taste, so I can't really say I have a favorite singer or band. My love is for OSTs mostly, but I listen also to pop, rock, ballad, Arabian, instrumental, classical, j-pop, j-rock, k-pop, banda...
Ok, I'm terrible when I have to write a bio, so I'm sorry in advance XD.
Well, my name is Paulina, but some known me as Belly (my previous nickname) or Tiamat (my current one) or Tiamatista (in Tumblr). I live in Mexico City. I love languages and drawing :P.
I enjoy the simple things of life. =) I love animals, especially mammals. I currently own two cats: Pili and Merlin.
I love my country and my language, my culture and my country's food.
I like drawing, writing, sewing simple plushies, singing alone, taking photos, and see what crafts I can invent XD. I also like cooking though I'm not allowed to be a lot in the kitchen due to several and weird reasons.
I love cute stuff in general and unicorns with burning passion!!! You can even consider me a collector whore when it comes to that.
And I think that's it XD.
If you think we have interests in common or are interested in getting to know me personally and want to be added or just have any questions, comment here =D.
ICONS
RESOURCES
Moodtheme by
doesnotsway